Current International Opportunities for Irish Participants
TCAs and NETs are events arranged by National Agencies to encourage collaboration and sharing of best practice within Erasmus+ and the European Solidarity Corps. They can be training and support events; contact seminars to find project partners; or thematic seminars addressing specific topics in education, training and youth work.
Looking for an International Training Opportunity?
Don't miss these current Training and Cooperation Activities (TCAs) and Networking Activities (NETs)
Through Léargas you can access TCAs and NETs for the following sectors:
Youth and Volunteering
School Education
Adult Education
Vocational Education and Training


You can apply through the SALTO links below or in the case of TCAs taking place in Ireland, directly with Léargas!
For more information on TCAs contact our TCA Officer Anna!

Massive Open Online Course on the European Solidarity Corps
MOOC | Online | 30 May - 01 September 2022
Join a free online course for people interested in the European Solidarity Corps programme. During this course you will learn all about the funding opportunities for Volunteering and Solidarity projects. Enroll now - no application required!
Open online from 30 May - 01 September 2022

Media Literacy as a key skill for modern life [Czech Republic]
Contact Seminar | 03-10 October 2022
Information has never been as accessible as these days. This brings both great opportunities and great challenges. Especially young people can be very vulnerable to phenomena such as disinformation and fake news. At this international event we will focus on these challenges and on ways how international cooperation can help to mitigate them.
Application deadline 30 June 2022

Cross Over Prague - Training for Quality in Partnership for Cooperation in the Youth Field [Czech Republic]
Training Course | 06-10 September 2022
The Training Course aims to contribute to improving the quality of project preparation and implementation, and to achieving a greater positive impact of developed Erasmus+ KA2 projects on different levels relevant for youth and the youth field..
Application deadline 07 July 2022

One 2 One - facilitating learning face to face [Germany]
Training Course | 03-09 October 2022
A five-day training course focusing on youth work practitioner competences that are needed to work with young people individually to support their learning and development.
Application deadline 15 July 2022

YOUTH IN EUROPE: OFFENBURG TALKS #5 - Identities and belonging: what do youth work and youth policy need to know about young people today?
Seminar | 13-14 September 2022, Offenburg, Germany
A series of expert workshops on themes relevant to the youth sector and with an impact on youth policy, youth work practice and young people's life in general. In 2022, the focus will be on identities and belonging of young people today. More details here.
Application deadline 17 July 2022

TICTAC Training Course & Partnership Building Activity [Bulgaria]
Training Course | 12-18 September 2022
TICTAC will be of interest to voluntary and professional youth workers and youth leaders involved in international youth work with an interest in using the Erasmus+ Youth and the European Solidarity Corps as tools in the strategic development of their work or organisation.

By bringing together representatives of youth organisations from different European countries, TICTAC aims at improving the potential of the participants to get involved in Erasmus+ Youth Mobility projects.
Application deadline 15 July 2022

Supporting Transitions - the role of career guidance
Contact making seminar | 15-16 September 2022, Belgrade
This seminar will focus on career guidance and counselling (CGC) activities designed to support students' transitions from one level of education to another and from education to labour market.
Career transitions have certain similarities at different levels of education. These common elements, as well as specificities related to each level, will be explored in expert presentations and interactive workshops. Participants will have the opportunity to acquire knowledge of some key concepts in the field. More details here
Application deadline 15 August 2022

CONTACT SEMINAR - SMALL SCALE PARTNERSHIPS
Contact making seminar | 6-8 November 2022, Copenhagen
The contact seminar is designed for newcomers to the program, who has little or no prior knowledge about Erasmus+. We will be facilitating the TCA through the specific parameters of Small-scale Partnerships (KA210), and our goal is to help parties interested in becoming newcomers navigate through some of the opening hurdles by introducing them to like-minded organizations, and facilitating thematic workshops as well as an array of "speed-dating" and general knowledge of project management. More details here
Application deadline 18 September 2022

YOUR ACTIONS MATTER! HOW TO SUPPORT REFUGEES THROUGH ADULT EDUCATION PROJECTS
Meetup | 13-16 September 2022, Warsaw
This contact seminar aims at partner searching to the mutual Erasmus+ Adult Education projects focused on supporting refugees through non-vocational educational activities, networking in this area , sharing the best practices, discussing ideas and preparing drafts of new Erasmus+ Adult Education projects. More details here
Application deadline 11 July 2022

DiscoverEU Meetup [Luxembourg]
Meetup | 11-13 August 2022
Are you taking part in DiscoverEU? Do you want to visit Esch-sur-Alzette, a European Capital of Culture? In Esch-sur-Alzette's industrial surroundings, DiscoverEU participants will meet up, get creative and discover culture, think green and meet locals. Join this meetup and get to know other DiscoverEU travellers!
Application deadline 15 July 2022

Municipalities4Democracy [Norway]
Training Course | 10-14 October 2022
This is a Youth Participation training for municipalities. If you want young people in your municipality to be actively engaged and involved you need to involve them in decision making and development of youth policies! Learn how to successfully involve young people in decision making and strengthen democracy in your municipality in this training course.
Application deadline 17 July 2022

APPETISER - An introduction on how to use the 'Erasmus+ Youth' Programme for international youth work [Lithuania]
Training Course | 19-23 September 2022
APPETISER aims to give a strong positive first experience of international youth work and motivate participants to use Erasmus+ Youth. It will also cover the European Solidarity Corps but not to the same extent!
Application deadline 22 July 2022

Adventure Europe [Italy]
Training Course | 02-08 October 2022
This training course is addressed to youth and social workers who are working in Youth Care and residential care settings and interested in Adventure and experiential learning approaches.
Application deadline 22 July 2022

Sustainability Academy: building Future(s) Scenarios [Luxembourg]
Training Course | 19-24 September 2022
Learn how to support young people with imagining/building desired future scenarios for their communities. This training on sustainable youth work uses Futures Thinking and addresses sustainable development , social entrepreneurship, circular economy.
Application deadline 01 August 2022

Anti-racism (youth) work in Vienna [Austria]
Study Visit | 12-15 October 2022
This study visit explores the question how youth work addresses (anti)-racism. During the activity we will hear experts, visit local projects and meet self-advocacy organizations to see and discuss challenges and good practices in anti-racism work.
Application deadline 07 August 2022

European Solidarity Corps: TOSCA – training and support for organisations active in the volunteering actions in the European Solidarity Corps
Training Course | 10-14 October 2022, Latvia
The training activity aims to support and build up the capacities of organizations that actively participate in volunteering actions of the European Solidarity Corps, in order to ensure quality and impact in the respective projects.
Application deadline 5 September 2022
Solidarity_Opening the door to new volunteering fields [Austria]
Partnership-building Activity | 03-07 October 2022
We want to open the door to new fields in volunteering! The event aims to bring together different organisations, newcomers and the ones that have experience and are interested in new fields of volunteering!
Application deadline 15 August 2022

The Power of Non Formal Education [The Netherlands]
Training Course | 02-07 October 2022
Improving the impact of Non Formal Education principles and methods in creating empowerment opportunities for young people as real actors of society (from local to Europe).
Application deadline 22 August 2022

Erasmus Goes Greener [Hungary]
Seminar | 23-28 October 2022
Do you want to make your youth work more environmentally friendly? Are you interested in how to make Erasmus+ and European Solidary Corps projects greener? If the answer is yes and you are working with young people directly, then this is the activity for you!
Application deadline 28 August 2022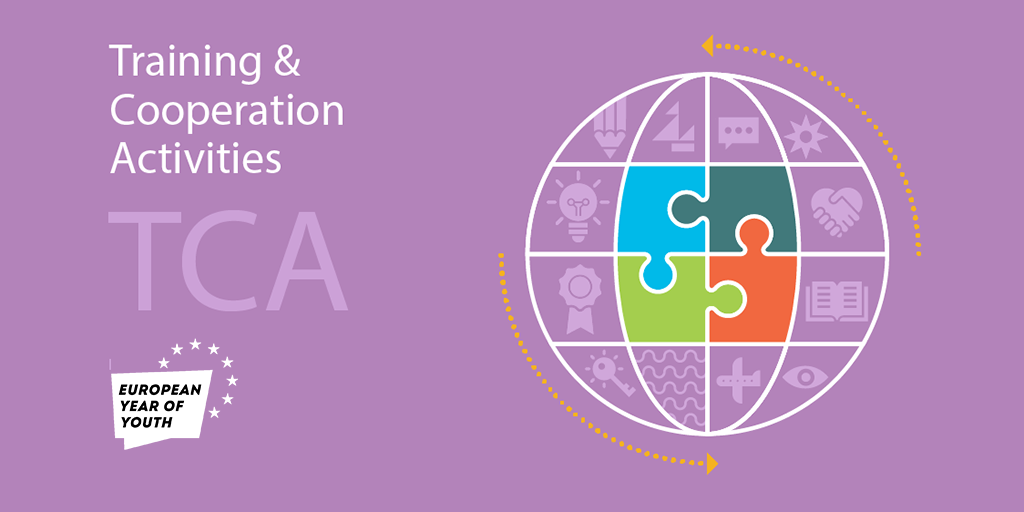 Anna Kadzik Bartoszewska
Senior Support & Development Officer TCA/NET